Residential roof system have evolved and now incorporate new material components and designs to increase their longevity and durability.
ASPHALT SHINGLE (LAMINATED/FIBERGLASS)
The most popular shingles in North America currently are asphalt shingles that are infused with fibreglass; the preferred shingle we use in our projects.
Asphalt shingles are also referred to as dimensional shingles because they are typically a two-layer strip. These shingles have more weight and are of a more durable design that withstands higher winds and is more weather resistant.
The benefits of asphalt shingle
Fiberglass shingles have a longer life expectancy and re recyclable; eco-friendly; wind resistant; fire resistant
Over time a more cost-effective choice for homeowners. Fiberglass shingles are more flexible, longer-lasting; creating an extended protection for your home.
Eclipse now offers and installs Energy Star rated shingle and cool roof shingle options for your residence.
Homeowners will spend less money overtime on repairs and replacing their roof system.
OUR FAVOURITE BRAND
Landamark CertainTeed | Architectural Shingle (dimensional shingle)
CertainTeed offers a variety of styles, colours and categories of shingle (Standard, Pro, Premium) to choose from
CertainTeed has one of the best product warranties available and is transferable
Eclipse Roofing Ltd, s a certified CertainTeed shingle installer and we offer an additional "Sure Start" warranty to our clients
Landmark Silver Birch and Landmark PRO Silver Birch meet the City of Toronto's guidelines for the Cool Roof Rebate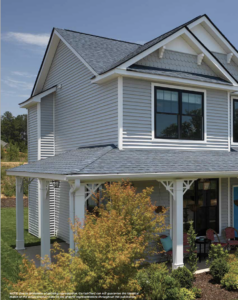 Copyright, CertainTeed.com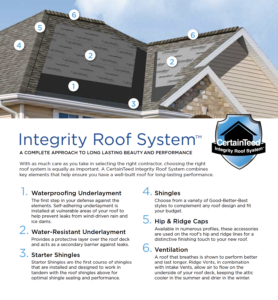 Copyright, CertainTeed.com
CEDAR SHINGLES
We offer cedar shingles or cedar shake roofing.
Our shingle of choice for roofing projects is the Western Red Cedar Perfection Shingle. This shingle is a popular choice for roofing and siding projects, easy to install and creates a natural aesthetic look for your home.
Our clients choose this shingle for its warm red colour that weathers into a beautiful silver grey when left untreated. Cedar shingles have a natural straight grain and tailored look that is visually pleasing.
These shingles are a durable choice for your roof and enhances the value of your home. In addition, cedar shingles can be painted or stained to the homeowner's taste and is easily incorporated with other natural materials such as stone and brick.
The benefits of cedar shingle:
Resistant to all weather in all conditions
Resistant to insect damage
Resistant to UV ray damage
Resistant to moisture, shrinkage, warping and decay.
They also have exceptional thermal insulation properties
Impact resistant
Withstands thermal shock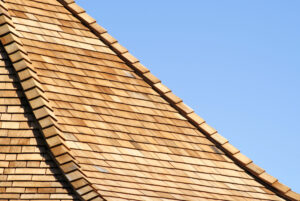 SLATE ROOF
Genuine slate shingles are one of the most durable, long lasting materials and has been used for hundreds of years.
Slate shingles are a luxury material chosen by homeowners for its natural colour, texture, and high quality.
The expensive cost of these shingles is attributed to the limited availability and production from select quarries that supply the slate. It is important to pre plan with a project using this material to ensure that the supplier has the colour and quantity required.
Slate shingle does weather and change colour over time, each tile weathers individually creating a mix of natural colour and tones to your roof. In addition to this natural weathering, slate roofs take on different appearances through out the day and in different lighting. It can appear to have a sheen in direct sunlight or have a matte look on a cloud covered day.
Maintaining a genuine slate roof is economical and slate shingles are easy to remove, rearrange or replace after installation.
Benefits of Slate Shingle:
Aesthetically pleasing
Extremely long lasting
Requires little to no maintenance
Available in a variety of colours, grain, textures, size, thickness, pattern, and exposure.