Skylights are an affordable and beautiful way to bring more natural light into your home.
Installing a skylight can bring not only more light, but warmth into a room creating a new atmosphere to the space.
Eclipse Roofing Ltd. can help you choose the right skylight or sun tunnel for your roof and room to enhance your space and add to the aesthetic of your home.
Skylights are available in a number of different styles, sizes and come with additional features (options) depending on the space and location of the units.
For example, additional features most requested by our clients are; solar opening blinds, rain sensors and custom coated (laminated) windows.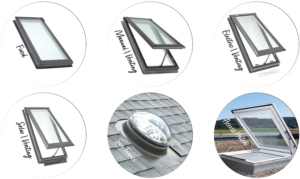 Photo Credit: velux.ca
The majority of skylights we install in our residential projects are Velux or Artistic skylights.
Please note; that Eclipse Roofing will provide all of the exterior work to install your new skylight.
Any interior drywall or carpentry requires a 3rd party contractor; and we do have a highly recommended referral for this portion of the work if needed!
(typically only required for brand new installations or repairs for water damage).
BENEFITS OF SKYLIGHTS
Allows more natural light into your home or commercial space
Know benefits related to energy saving costs (natural sunlight warming your space and less electricity use from not turning on the lights)
Increase in health and wellness through additional ventilation and fresh air coming into your home (venting skylights)
Can create a more welcoming space with additional natural and soft lighting

KNOWN BENEFITS OF NATURAL LIGHT
Natural light has a direct effect on your mental health and mood; which has been noted to be directly correlated to a positive increase in mood, and increase in energy level and activity.
Natural light has been linked to an improved sense of well-being and stimulation
-"The Benefits of Natural Light", by Kevin Van Den Wymelenberg, Annual Daylighting Metrics, Explained, 2016.
These benefits rest on finding the right balance of natural light for your home and room. Eclipse Roofing will help you find that balance with a skylight or sun tunnel.
BRANDS & STYLES  WE USE MOST IN OUR PROJECTS: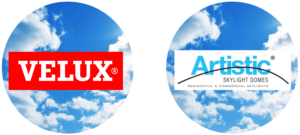 VELUX
Residential | Commercial
Glass and Acrylic Options
Flat and Dome
Fixed Units
Electric Venting (opening)
Manual Venting (opening)
Solar Powered Venting (opening)
Sun Tunnels
Glazing Options
Click here to visit the Velux Website
ARTISTIC
Residential | Commercial
Glass and Acrylic Options
Flat, Dome, Pyramid (Architectural)
Fixed Units
Electric Venting (opening)
Manual Venting (opening)
Solar Powered Venting (opening)
Sun Tunnels
Hatchlite Skylight
Frame Option | Glazing Options
Click here to visit the Artistic Website

Velux Warranty                  Artistic Warranty